Silent Moments
By
GosselinGirl
Life, it is what it is anymore. It seems like so many things are changing all around me each and everyday. When the world can be too much, it is at these times that I retreat into my silent moments.
I don't have to go very far to find quietness in my life. I can be almost anywhere. When I feel the need, I just quietly talk to God in my mind. It is in these silent moments that life always takes on new meanings for me. Through prayer, I am able to see things more clearly. The power of prayer is my only remedy for a heart that stirs from within. Afterwards, I am left refreshed and renewed with a sense of direction that only God can give.
Praying and talking in my mind, I can visit anyone I want. Many of times, I talk with my loved ones that have passed. While they don't talk back to me, I can feel their presence and it comforts me. I can also think about all the people I love in my life and send prayers to each and everyone of them.
I learned as a young child that when I needed answers in life to find a quiet place and take all my worries to the Lord in prayer. It is in these silent moments in my life that God listens to my prayers and answers me. I have seen God work miracles from miles away, answer prayers that I thought had no resolutions, and simply help bring a smile back to my face. Silent moments that have helped guide me along the journeys of life.
These silent moments are cherished times in deep thoughts and prayer with God. I don't have to have any special equipment, money, or transportation. I just come as I am and he listens.
In silence, I find God. In quietness, he is always there. When I walk along the waters of the ocean, he is there with me. Whether it be in the coolness of the waters or the breeze upon my face….I always find God in my silent moments in life.
Spending time in prayer is a great way to find the silent moments in your life. Whether you pray out loud or from the depths of your heart without saying any words…God is always willing and waiting to listen, to guide you, and to love you just the way you are. Silent moments alone with him is all I really need in life. Everything else….is just gifts from above that I treasure and love.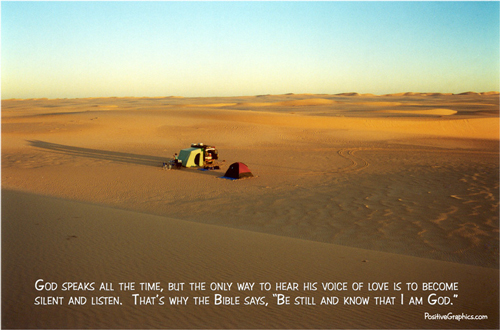 Be Still My Soul by The Kry
This blog was written for The Writers' Post Week #10-Silent Moments.