7 Wonders Of My Life
By
GosselinGirl
When I sit alone and think about the wonders of my life, there are many. Having to put only the top seven is very difficult, but here are the seven things I treasure most in my life.
1. God- As a young child I came to know Jesus Christ as my personal savior. Through the love of my grandparents, Mama Dear and Pa Paw, I learned what God's love was all about. I learned that in my darkest hours, I was never really alone. All I had to do was seek the Lord and he would guide my way. This is something I have never wavered from in my life and for that I am grateful. The sweetest memory I have of coming to know the Lord as my personal savior was also when I was baptized with my sister Cindy. Afterwards, the two of us talked about feeling the Holy Spirit come into our hearts that day. I still feel the spirit each and everyday of my life and I still try my hardest to be a good Christian girl.
2. My Family- I have been blessed over the years to have a wonderful family. My father is a southern man with deep family roots. His family was all about love for one another. A principal he instilled in me as a young child. My mother is one of fifteen children. She came from a big family and taught we how to be the strong woman I am today. Together, they raised me to be of good moral values and to never give up on life. I am grateful for all of their wisdom and love throughout my life. It is an unconditional love that is bound by many things. My brother, Frank, also had a lot of influence on me. He taught me how to be strong and to never give up on my dreams. The sweetest memory of him is when he magically appeared at my graduation from college. He couldn't hold back his tears when they called my name and handed me my degree. He passed away a few years ago, but his love for me, memories, and his strength remain strong within my heart. My sweet sister is my best friend. She is a strong woman with so much love. She has been the best big sister God could have ever blessed me with. We remain strong in our sisterly love. I cherish all the fun times we had as children. Last, but not the least, my husband, Patrick, he is my rock. He loves me for me no matter what…it is a genuine love that never quavers no matter what life tosses our way. I love him deeply like none other.
3. Love, Hope, and Faith-
1 Corinthians 13 >>
New International Version
1-If I speak in the tonguesa of men and of angels, but have not love, I am only a resounding gong or a clanging cymbal. 2-If I have the gift of prophecy and can fathom all mysteries and all knowledge, and if I have a faith that can move mountains, but have not love, I am nothing. 3-If I give all I possess to the poor and surrender my body to the flames,b but have not love, I gain nothing.
4-Love is patient, love is kind. It does not envy, it does not boast, it is not proud. 5-It is not rude, it is not self-seeking, it is not easily angered, it keeps no record of wrongs. 6-Love does not delight in evil but rejoices with the truth. 7-It always protects, always trusts, always hopes, always perseveres.
8-Love never fails. But where there are prophecies, they will cease; where there are tongues, they will be stilled; where there is knowledge, it will pass away. 9-For we know in part and we prophesy in part, 10-but when perfection comes, the imperfect disappears. 11-When I was a child, I talked like a child, I thought like a child, I reasoned like a child. When I became a man, I put childish ways behind me. 12-Now we see but a poor reflection as in a mirror; then we shall see face to face. Now I know in part; then I shall know fully, even as I am fully known.
13-And now these three remain: faith, hope and love. But the greatest of these is love.
Love is the focus of my whole life. I try to love everyone the same. If I have not love for others…I have nothing at all.
4. My Dog- I don't know about you, but I really love my dog. No, not in a human way, in a very special way. You see, my dog Molli is special. She was a gift from my husband at a time in my life when I was going through some very difficult times. I have owned a lot of dogs in my life, but this little girl is different. Molli, is a West Highland White Terrier. I have never met such a smart dog. It is almost like she is human in every way possible. As I go about my every day life, she is always on my heels. Always loving, always smiling at me, and always giving me kisses to show her love. It may sound funny, but I think she was also a gift from God. She kept me going strong with her spunky little spirit during a time when I needed her most. Yes, she is very spoiled, but hey why not? How often do you find a dog that knows what you really need. This little sweet dog, likes to walk with me, barks to go outside, fetches, rolls over, and even lets me know when the phone is ringing. It may sound strange, but I can't imagine life without her. You said it…she is my little angel.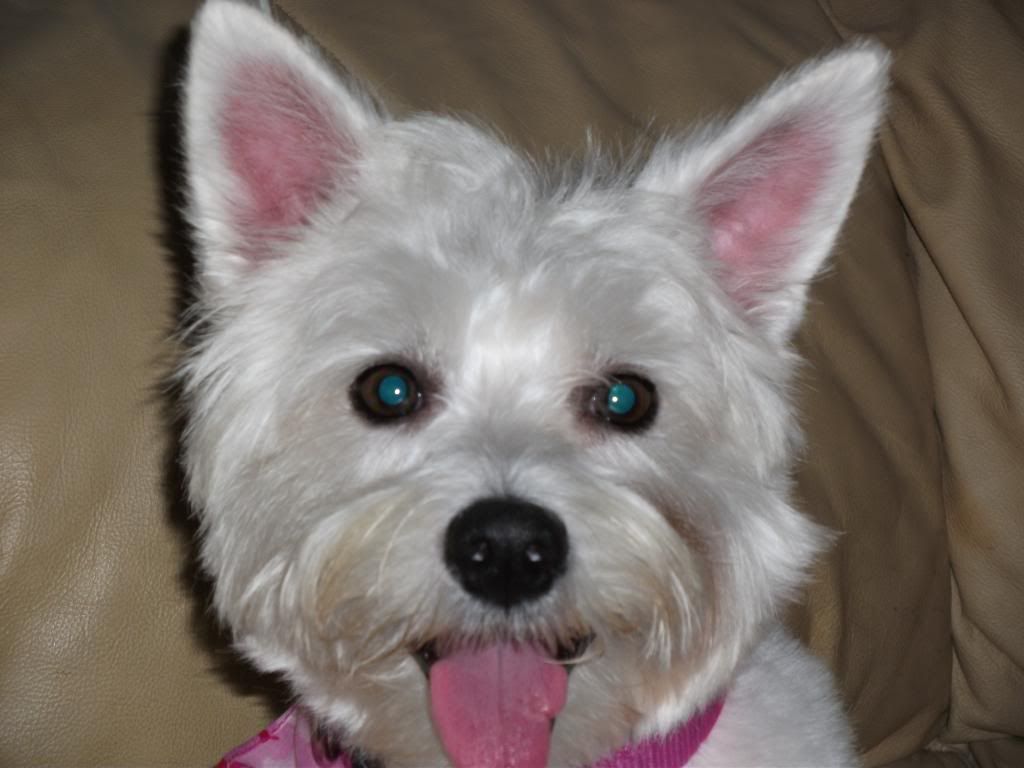 5. The Beach-Everyone should have their own special place to just get away. A place that brings them peace of mind. My special place is the beach. I don't know, but there is something about walking on the beach that just moves me in everyway possible. First of all, it is beautiful to look out at the ocean and its vastness. The waves calm me and I find that I am at my greatest peace when I just sit for awhile and look out at its beauty. Once I experienced the beach for the first time, I knew someday I would live by this special place. Well, I got that wish last year. I moved to Vilano Beach in Saint Augustine, Florida. For once in my life, I can actually say I have my special place and a little piece of heaven also.
6. Traveling-I have been fortunate to be able to travel to many places. I have been to Canada, out West, down the Eastern Coast of the United States, Mexico, Cozumel, Belize, you name it. While there are still numerous places I still would like to visit, I love a good adventure. Traveling is fun and someday I want to travel to Italy on a cruise boat. Will my dreams come true? I guess I will have to wait and see.

7. Books, Movies, and Music-I can't imagine life without books. Yes, they have Kindles, but I still like to snuggle up with a good book. I don't really need a fancy contraption, just a good book and I am happy. I like all kinds of books. My library consist of over 3,000 books ranging from children's literature, westerns, fiction, nonfiction, romance, and art.
Movies are a biggie for me. Nothing fills me more than to watch a good movie with a good character. My favorite actresses are Betty Davis, Sandra Bullock, Angelina Jollie, Julia Roberts, Shirley Temple, and many, many more. Now for actors, give me a date night with Johnny Depp and I would be very happy. I also love, love, Russell Crowe, Brad Pitts, Collin Farrell, Al Pacino, Andy Garcia, and many more…I think you get the picture. I believe I have watched almost all the movies at Blockbusters Video. You name it and I think I have seen it on video or dvd. My favorite movies include, Gone With The Wind, The God Father Series, P.S. I love you, Gladiator, John Wayne, oh there are too many to list.
Music is the heart of every soul. I love beautiful music. From rock n roll, classical, jazz, gospel, to the crooners, I listen to all kinds of music. It is really hard for me to name a favorite, but I will always love Bob Segar, Tony Bennet, The Celtic Women and many, many more.

~~~~~~~~~~~~~~~~~~~~~~~~~~~~~~~~~~~~~~~~~~~
It is hard just listing 7 wonders of my life. These are my tops, but I have a whole list of others things that I truly love. To name a few, nature, beautiful things in life, art, space, good food, great friends, laughter, holidays…oh I could go on forever. Pondering all of these wonderful things as I write, has made me realize…gosh I am truly a lucky girl to have experienced so many wonderful things in my life. I just want to say thank you to everyone who has walked along this journey called LIFE and who has made me what I am today. In my eyes you are all the WONDERS OF MY LIFE. P.S. I love you.